Schedules can be found at quickscores.com/mychoctaw.
For more information please call or email Brandon Sullivan, Bouse Sports Complex Manager, or 405-882-9188. ISSUES WITH REGISTRATION? Call us at City Hall, 405-391-8198 during regular business hours, Monday through Friday, 8am to 5pm.
SPRING BALL LEAGUES OPEN!
SPRING YOUTH BASEBALL/SOFTBALL REGISTRATION
OPEN DEC 27 - MAR 2, 2023
Register now!
NOW USE ONLINE BILL PAY BUTTON BELOW TO PAY FOR REGISTRATIONS ONLINE!
Please call City Hall at 405-390-8198 for issues with online registration or payments during regular business hours, Monday through Friday, 8am to 5pm.
SWING INTO SPRING WITH THE CMC LEAGUE!
AGE CUTOFF: MAY 1, 2023
TEAM FEE: $300
INDIVIDUALS: $30
SEASON BEGINS MAR. 20, 2023
HOME / AWAY LEAGUE PLAY + POST-SEASON TOURNAMENT
COACHES MEETINGS: MARCH 2, 2023
200 N Midwest Blvd, Oklahoma City, OK 73110 (Nick Harroz-Midwest City Community Center)
Softball at 6:30pm, Baseball at 7:30pm
FAQ: ARE WE GONNA PLAY TONIGHT?
COLD WEATHER GUIDELINES
46° and higher - No Change / Games played as scheduled
45° and lower – Additional Clothing beneath Uniform Suggested (Long Sleeves / Long Pants / Additional Socks)
40° and lower – Shorten Games or Cancel Practice
35° and lower – Suspend Games
HOT WEATHER GUIDELINES
If the Temperature is 105° F or higher, games and practices should be postponed or cancelled.
**Temperature means either ambient (still air) or wind chill index.
The Sports Director or Sports Coordinator will determine the official temperature, and make a decision on games. Decisions on game times will be made at least 60 minutes prior to your scheduled game time, when possible. Updates will be posted on QuickScores, as well as the FaceBook page. Bouse Sports Complex will guarantee two make-up games per season due to weather. Coaches are asked to use these guidelines in determining practice conditions / cancellations. We want to re-emphasize that we are here for the children and we want to try and ensure they have the safest environment possible. Please contact your Sports Director with any other questions that you might have related to the above topic.
Recreational Vehicles and Campers are not allowed at the Bouse Sports Complex.
However, we do allow RVs and Campers with a permit at Ten Acre Lake, located adjacent to the Bouse Sports Complex. Vehicles parked without permits can and will be ticketed by Choctaw Police. To obtain a permit, please email Brandon Sullivan in advance of your visit.
Bookmark this page and check back for updates, cancellations, postponements, and other new information!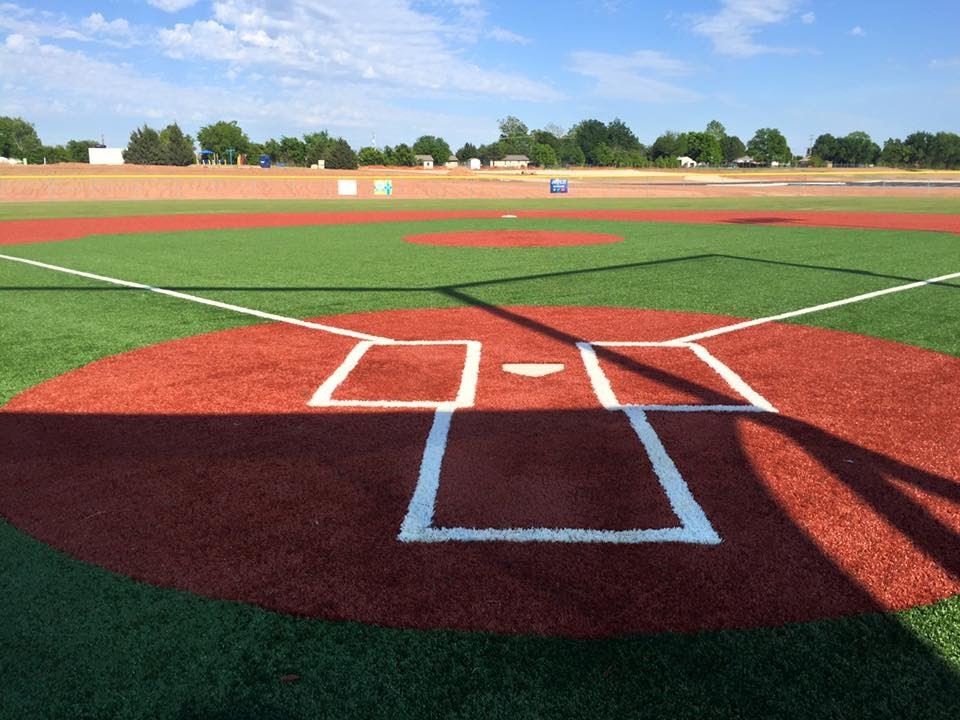 The Bouse Sports Complex is a premier sports and recreation complex and features eight turf baseball / softball fields.
Located at 1333 N Indian Meridian Rd in Choctaw, Bouse Sports Complex is also home to a splash pad and a playground. With so much more to come, this is the place to be for activities for kids and adults.